Structured information to guide you through Unbxd PIM with minimal assistance
Exploring Unbxd PIM
The Unbxd PIM interface is designed for easy use while offering comprehensive functionality. 
Main Tabs and the Profile Icon on top of the console provide a complete toolkit for managing your product information.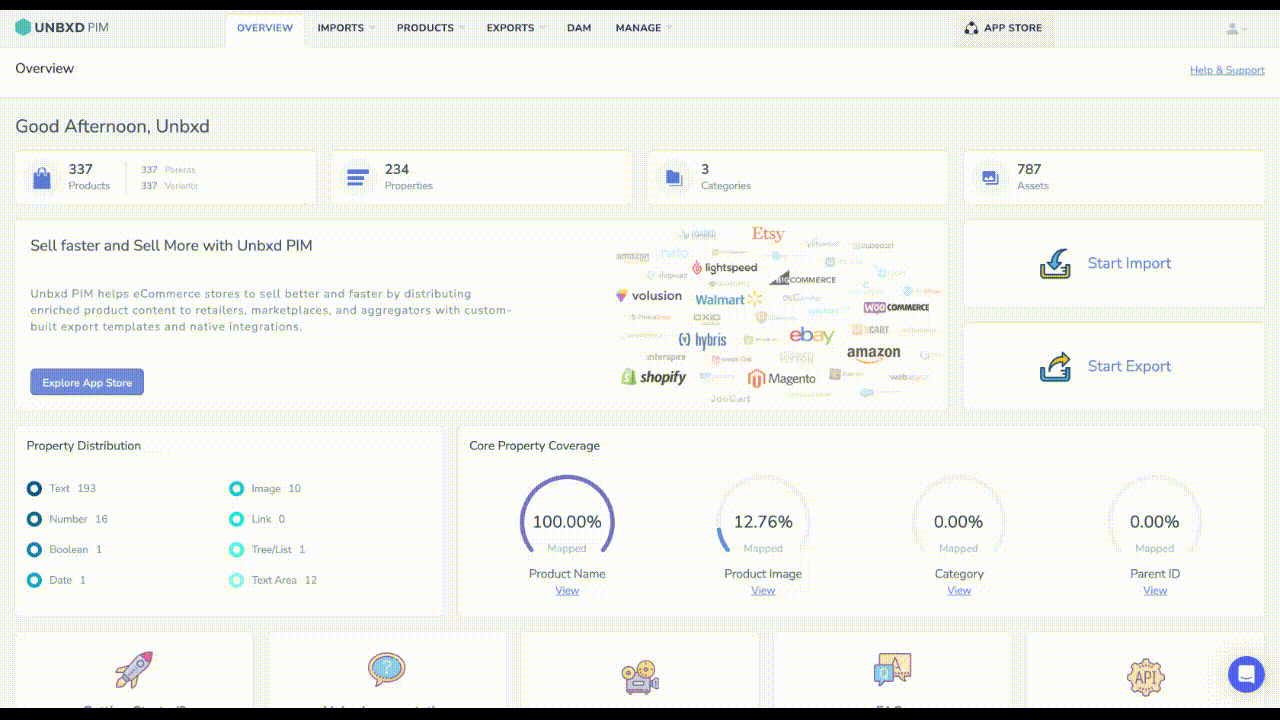 Main Tabs
Main Tabs are a series of tabs that simplify navigating through Unbxd PIM. Each Tab comes with a distinct function.
          Main Tabs

               

Function
OVERVIEW

The Overview tab is your hub for essential PIM actions, allowing you to:

Import products

Create properties

Set up organizations

Export products

Access/View Assets in DAM

Access/View Categories

Access/View Products and Product groups

PRODUCTS

The Products tab focuses on product-related operations. Here you can view all your products listed post-import, add new products, and create static and dynamic product groups.

CERTIFIED PRODUCTS

Certified Products are your gateway to export products to marketplaces. Please note these certified products cannot be edited.

IMPORTS

The Imports tab is where you can manage all import-related activities.

DAM

The DAM tab allows you to manage your product's digital assets, such as images and videos.

MANAGE

PROPERTIES

Creating and managing product properties, including grouping relevant properties.

CATALOG

Creating and sharing catalogs for internal and external business requirements.

WORKFLOW

Allows you to automate the PIM processes.

For more information on workflows, see workflows.

READINESS REPORT

Evaluating the completeness and accuracy of product data.

TASKS

Managing all task-related activities, including creating and assigning new tasks and using task templates.

CATEGORIES

Creating and managing product classifications.

EXPORT

Sending certified product information from PIM to different Channels in specified formats.

APP STORE

The App Store is a central repository that houses all available applications, ready for installation as needed. 

This section is further organized into separate tabs, focusing on AI Enrichment Apps and Installed Apps, Connectors, etc.You can easily navigate and find the right tool for your requirements.
Profile Icon
You can click  

 to do the following:
Link
Description or Action

EDIT PROFILE

View and edit your profile..

ORGANIZATION

Depending on your permissions, set up a team to manage PIM activities and view or edit the organization profile.

USER GUIDE

Access help documentation.

.

LOGOUT

Log out from Unbxd PIM.
0
of
0
users found this section helpful