Structured information to guide you through Unbxd PIM with minimal assistance
Google Ads Generator
AI Enrichment Suite App is a powerful tool that enhances your product information by generating accurate and engaging content. 
Install the AI Enrichment Suite app
Click on the App Store.

Search for the AI Enrichment Suite app.

Click on the app and select the "Install" option.

Once the installation is complete, you will find the app template on the export template listing page.
Once Installation is complete
Click on exports

Click on an export template

Click on Create Template, which is displayed On AI Enrichment Suite App

Enter a name for the template. 

Click on

Create New Template
Once The template is created.
Mandatory properties to generate Google Ads Gen 
Product_name

Product_description

search_term

AI_GEN_Google Ads Gen

[This property is used to set prompt values and should always be prefixed with

AI_GEN

]
Enter this as a comma separate values in the Bulk create Properties box.
For Example: 
product_name, product_description, search_term, AI_GEN_Google_Ads_Gen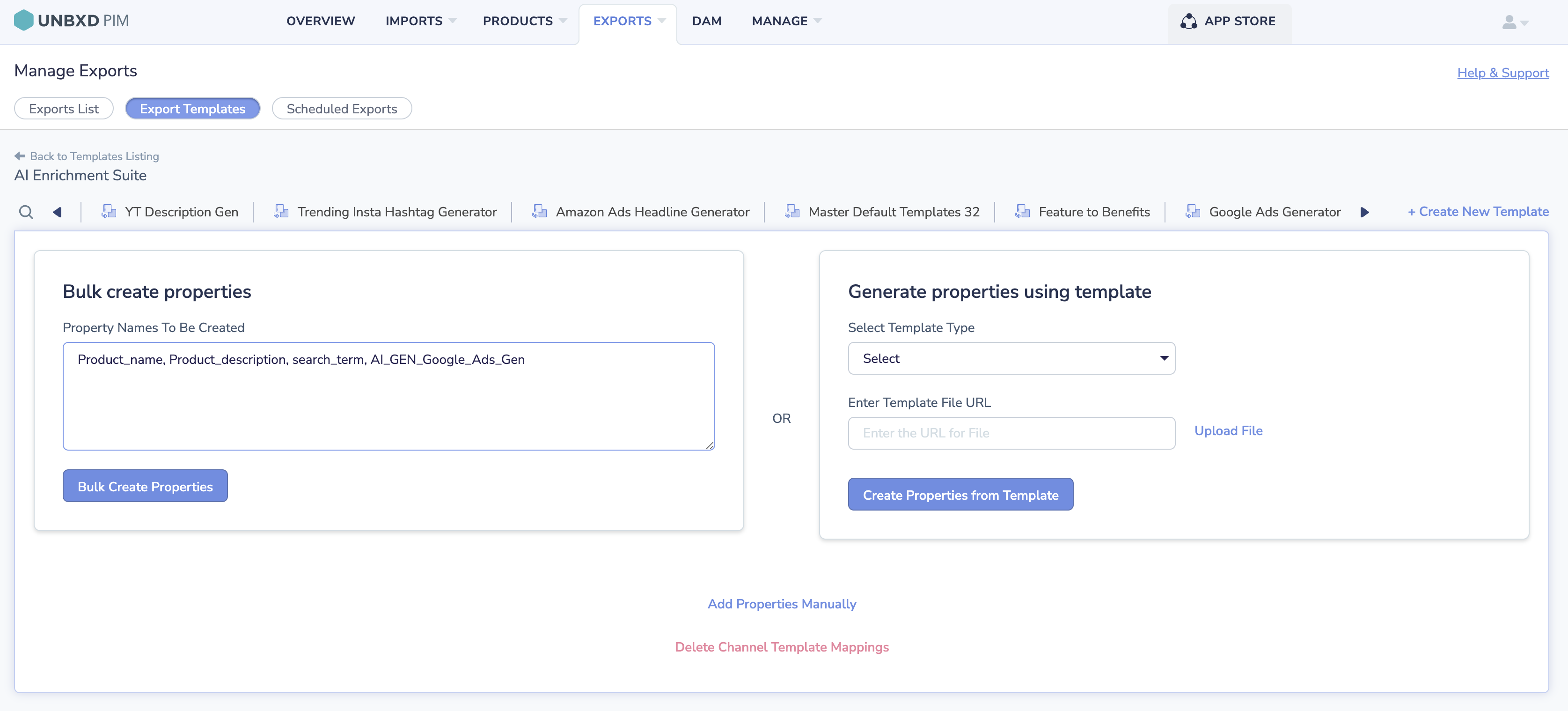 Setting Prompt value to generate desired output and mapping other properties
Click on

Add Transformation for the AI_GEN_Google Ads Generator

property.

And map the other properties with system properties.

Setting Prompt value to generate desired output:

Select

Set Operation,

which is under the Text rule.

In the Value text box, Enter a prompt value that will generate the desired output.

Then Click on Preview Output which enables the Save Transformation button

Lastly, click on Save Transformation.

Remember to click on the update button, which appears at the top right corner of the screen.
Now to export products to generate an Google Ads
Go to the Products listing page.
Apply filters t

he product which has targeted_keywords, Product_name, and product_description should be displayed.

Click on certify product(s)

If you want to create a

new certified product group

from the dropdown, click on

create new certified product group.

Give a name

for the group

Click on

Certify product(s).
After the products are certified : 
Change the tab to Certified Product

Select the products 

Click on the export product(s)
Generated Output:

0
of
0
users found this section helpful