Structured information to guide you through Unbxd PIM with minimal assistance
Digital Asset Management - Manage your Digital Files
Unbxd PIM allows you to organize, transform, store, and retrieve digital files of the products from one single point of entry.  With large volumes of digital assets, multiple roles, and members working on the different aspects of an asset, this centralized location reduces the time to market for products. The Assets system helps your brand and sales teams ensure that the organization's images and other digital assets are safe, secure, accessible, and protected.
The digital assets managed through Unbxd PIM include various image formats: 
.jpeg, 

.png, 

.gif,

.jpg,

.tiff,

.bmp,

.pdf

.pptx

DAM Tab
Once you successfully import your products into Unbxd PIM, you can leverage the DAM functionality by navigating to the DAM tab.
This tab provides you with two levels of detailed information:
Assets Listing Page: This page lets you view a comprehensive list of all product images associated with your digital assets.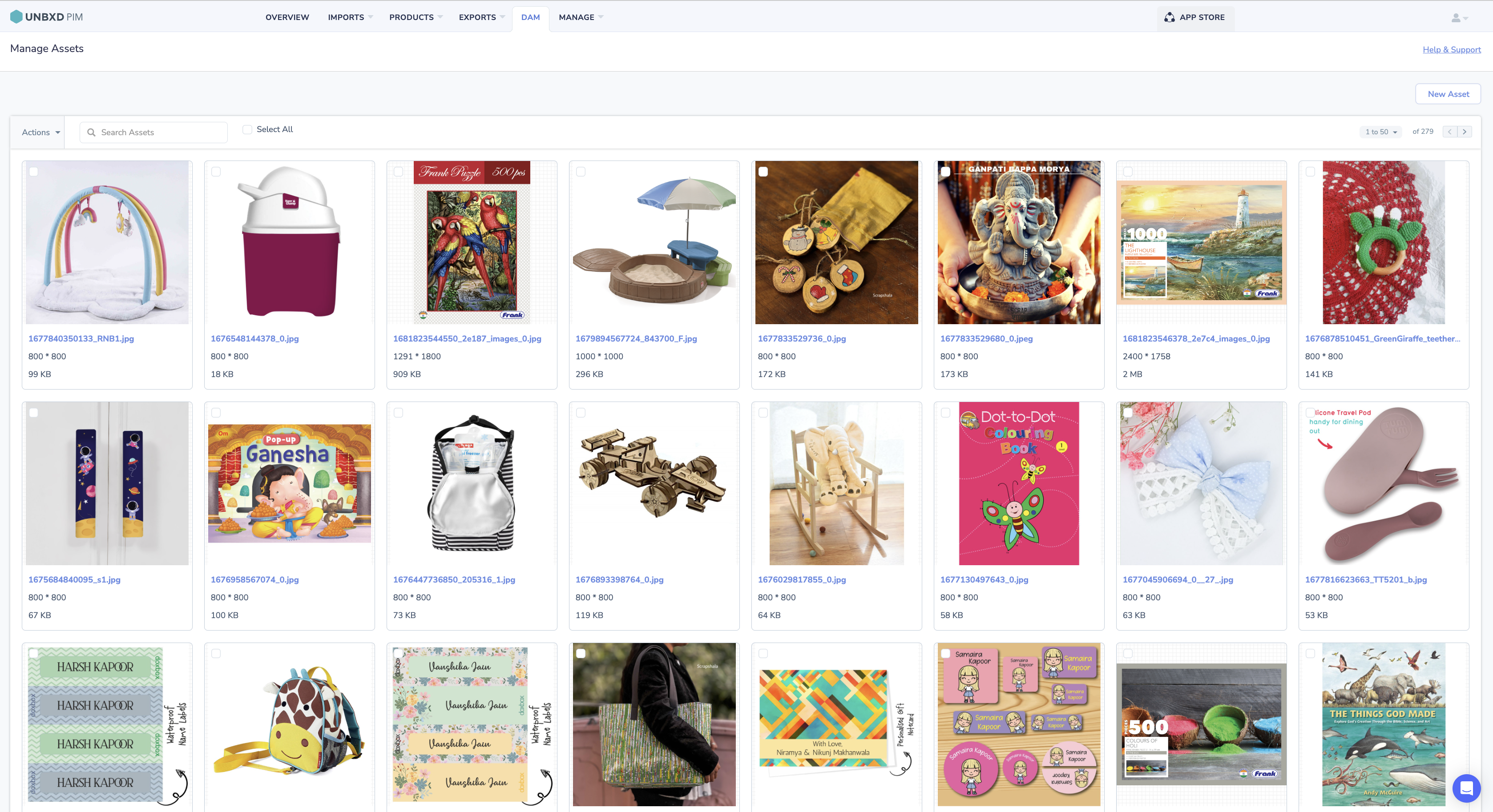 Asset Details Page: By selecting a specific product image, you can access detailed information about that asset, including its properties and attributes.
User Permissions:
You can access the DAM functionalities based on permissions set by the "admin" or any user equivalent to an admin.
The table below describes the different user privileges based on your system permissions.
Permissions
Description or Action

Manage

If your system permission for DAM is set to

Manage

, you can perform the following actions:

Add a new asset

Associate assets with products

Perform asset transformations

Disassociate assets with products

Download assets

Delete an asset

Read Only

If your system permission for DAM is set to

Read Only

, you can:

Hide

You cannot access the functionality if your system permission for DAM is set to Hide.
For more information about system permissions, see Setting System Permissions for a Role.
Here is how you can get started with managing digital assets.
Quick Navigation

→

Click DAM

.
1
of
1
users found this section helpful